Rome – The Eternal City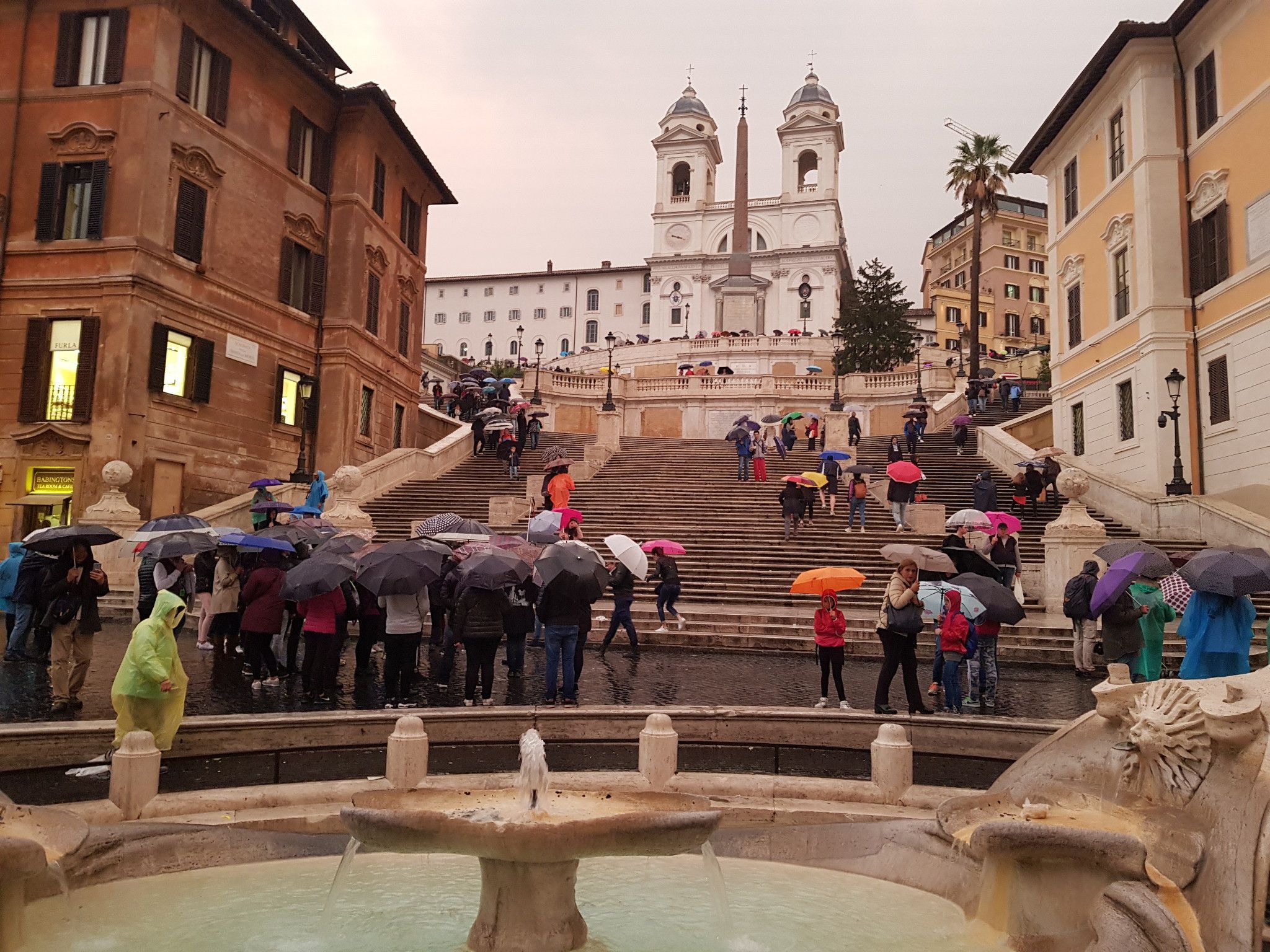 At the end of 2018, we took a trip to Rome – The Eternal City.
Rome (Roma) is the capital of Italy, capital of the Lazio region and historical capital of the Roman Empire and the Papal States. The city lies roughly in the middle of the Apennine Peninsula on the river Tiber. With about three million inhabitants in the urban area and about four million inhabitants in the agglomeration, it is the largest city in Italy and the third largest in the European Union. With a municipal area of 1287.36 km², Rome is also the country's most extensive city in terms of surface area.
---
Countdown
The countdown is has started…
… 38 days left!
The idea of a trip to Rome was born during a dinner.
The planning started the very next day and gained momentum during the week.
The preparations are in full swing.
Italy – Rome – Click here to visit our blog on the Google platform (german language)
---
Flight from Stuttgart to Rome
Arrival
We took the S-Bahn via the main station to Stuttgart airport. After checking in, a Boeing 737 from Eurowings took us to Fiumicino Airport on time. Arrival was at 11:30 am. The Exprexx shuttle took us non-stop to Rome to Termini 1.
Hotel search
From Termini 1 we went directly to Hotel Luce, Via Magenta, less than 100m walking distance from Termini 1. Incredibele!
Sightseeing Rom 
National Gallery of Ancient Art in Barberini Palace –

Galleria Nazionale d'Arte Antica a Palazzo Barberini

Spanish Steps 

– Scalinata di Trinità dei Monti

Trevi Fountain 

– Fontana di Trevi

Republic Square – Piazza della Repubblica
Buonanotte Roma
Good night Rome
Gute Nacht Rom
---
Sightseeing Rome
We booked a 3 day ticket for the Hop-On Hop-Off bus of the Red-Line.
We can only recommend a 3 day ticket, as you can easily reach all the sights by bus. Our stops were:
Library of the Institute for the History of the Italian Risorgimento – Biblioteca dell'Istituto per la Storia del Risorgimento Italiano
Colosseum – Colosseo
Celio Park – Parco del Celio
Spanish Steps of Trinità dei Monti – Scalinata di Trinità dei Monti
Piazza del Popolo
Mausoleum of Augustus – Mausoleo di Augusto
Castel Sant'Angelo – Castel of the Angels
Umberto I Bridge – Ponte Umberto I
Via della Conciliazione
Piazza Navona
Fountain of Neptune – Fontana del Nettuno
Pantheon
What a beautiful day!
---
Sightseeing Rome
Hop-On Hop-Off
Roman Forum –  Foro Romano
Colosseum – Colosseo
It was a nice day!
---
Sightseeing Rome
Hop-On Hop-Off
Roman Forum – Foro Romano
Trevi Fountain- Fontana di Trevi
Pantheon
What a beautiful day!
---
Sightseeing Rome
Hop-On Hop-Off
Sant'Angelo Bridge –  Ponte Sant'Angelo
Castel Sant'Angelo
Vatican City – Città del Vaticano

Saint Peter's Basilica – Basilica di San Pietro
St Peter's Square – Piazza San Pietro
Vatican Museums – Musei Vaticani
Gallery of the Candelabra – Galleria dei Candelieri
Vatican Apostolic Library – Biblioteca Apostolica Vaticana
Gallery of Maps – Cappella Sistina
Sistine Chapel – Cappella Sistina
Lapidary Gallery – Galleria Lapidaria
Pio-Clementine Museum – Museo Pio-Clementino
Gallery of Tapestries – Galleria degli Arazzi
Braccio Nuovo
Chiaramonti Museum – Museo Chiaramonti
Art Gallery of the Vatican Museums – Pinacoteca dei Musei Vaticani
Courtyard of the Pigna – Cortile della Pigna
Courtyard of the Pinacoteca – Cortile della Pinacoteca
Hotel Luce – Albergo Luce
It was a nice day!
---
Journey to the airport
After checking out, we took the train from Termini 1 to the airport. After a 45min ride with the Exprexx shuttle we arrived at the Aeroporto internazionale Leonardo da Vinci.
Return flight to Stuttgart

A Eurowings plane brought us safely to Stuttgart. From Stuttgart airport, the S-Bahn S2/S5 brought us home.
---
Summary
After approximately 50km on foot
We also learned to appreciate the Italian hospitality once again.
Eurowings – Everything worked out perfectly. On the route from Stuttgart to Rome to recommend.
Conclusion Rome:
Always worth a trip.
Addio – ci vediamo la prossima volta
Goodbye  –  See you next time 
Auf Wiedersehen  –  Bis zum nächsten mal
---