On the road in the "Ländle" – Ravensburg, Friedrichshafen, Singen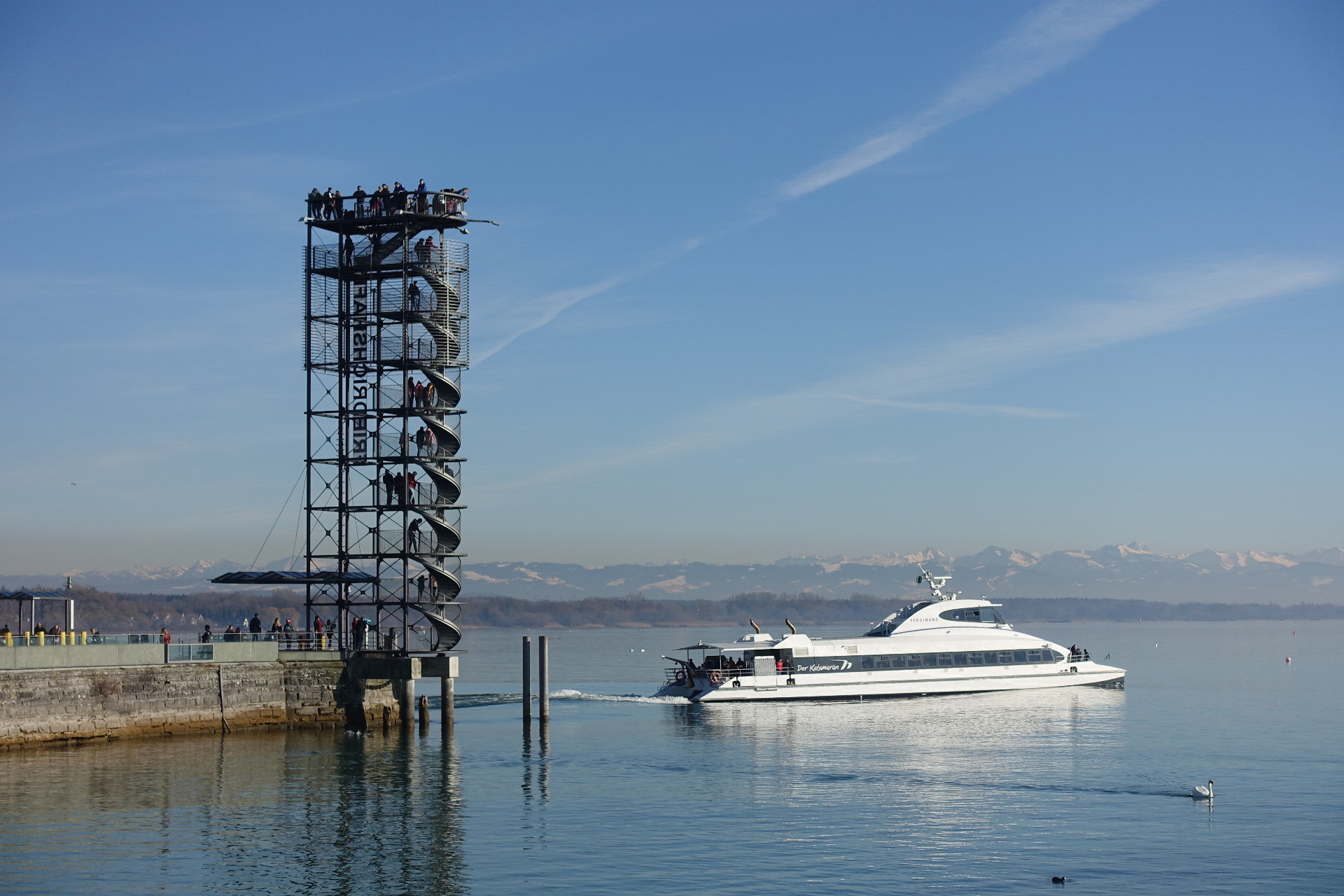 The spring-like February weather encouraged us to go on a Sunday trip with the BaWü ticket.
Ravensburg was our destination.
Ravensburg
Ravensburg is a large district town and with about 50000 inhabitants the largest town of the district of the same name in southern Upper Swabia. The former Free Imperial City is located in the Schussental about 17 km northeast of Lake Constance. Because of its numerous, well-preserved medieval towers, it used to be called "the Swabian Nuremberg".
With sunshine, but fresh temperatures, we arrived in Ravensburg in the morning.
First we made a small tour through the city. Ravensburg can show some historically valuable buildings, for example the city hall.
Afterwards our way led up to the Veitsburg. Past the tower "Mehlsack". This is the landmark of the city, which is also called the city of towers.
The wonderful view that was offered from the castle confirmed this. From the Veitsburg, it is still from the 30 Years War, even there is not much to see anymore. The old walls were supplemented and renewed by modern buildings, in which a youth hostel is located. We stayed up there for a short time before we walked back to the city along the beautiful panorama path.
Arrived there, we strolled, partly along the city wall, which still exists in parts, through the gambling town Ravensburg. On the way back to the station we strengthened ourselves with a cup of coffee.
By train we went on to Friedrichshafen at Lake Constance.
Friedrichshafen
Friedrichshafen is a large district town and lies on the northern shore of Lake Constance. With about 60000 inhabitants it is the largest city of the Lake Constance district and after Constance the second largest city at Lake Constance. Together with Ravensburg and Weingarten, Friedrichshafen is one of 14 major centres in Baden-Württemberg. Friedrichshafen is known for its Zeppelin Museum, among other things.
Bright sunshine and an azure blue sky attracted not only us but also many people to the lake. From the harbour of Friedrichshafen we had a wonderful view of the Swiss mountains, a layer of fog directly on the lake was fascinating. The lake showed itself from its most beautiful side. We enjoyed the walk from the Zeppelin Museum along the lake towards the city center / train station. As it was already late afternoon, we decided to continue our journey by train along the lake to Singen am Hohentwiel.
Singen (Hohentwiel)
Singen (Hohentwiel) is a town in the south of Baden-Württemberg, located about 30 kilometres northwest of Constance and 20 kilometres northeast of Schaffhausen (Switzerland) at the foot of Hohentwiel. Singen has about 47000 inhabitants and is the middle centre for the surrounding Hegau communities.
Ehe unser Zug nach Stuttgart abfuhr, hatten wir noch Zeit für einen Stadtbummel in Singen.
Der Hohentwiel präsentierte sich im Licht der untergehenden Sonne. Dies war ein perfekter Abschluß unseres kleinen Ba-Wü-Trips.
Conclusion:
Singen (Hohentwiel) is a town in the south of Baden-Württemberg, located about 30 kilometres northwest of Constance and 20 kilometres northeast of Schaffhausen (Switzerland) at the foot of Hohentwiel. Singen has about 47000 inhabitants and is the middle centre for the surrounding Hegau communities. (:-)
---